Respiration & Presence Sensor System
by Exceed Technology
Our sensor system is a seamless integration of the XeThru UWB radar SOC with custom DSP and WIFI wireless communication, complete as an encapsulated end product. It comprises signal processing, embedded control libraries to measure very minute movements like human respiration and other vital signs. Data are then communicated via standard TCPIP to any receiving service for advanced data processing.

Contact us >>   XeThru@exceed-tech.com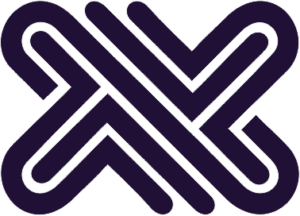 XeThru by Novelda
XeThru Impulse Radar is a complete CMOS radar system integrated on a single chip. This technology is used to implement a high-precision electromagnetic sensor for human vital sign monitoring, personal security, environmental monitoring, industrial/home automation and other novel sensor applications.
XeThru X4
Smallest UWB Impulse Radar
• Single-chip ultra wide band impulse radar transceiver
• Sub 10GHz frequency, sees through obstacles
• Low power consumption, typically < 120 mW
• Industrial operating temperature range, -40/+85 °C
• Advanced power management enabling low power duty cycle controlled operation
• Bi-phase coding of transmitted pulses for spectrum spreading
• Ultra-high spatial resolution for simultaneous multi-object tracking
• Master/Slave Serial Peripheral Interface (SPI/QSPI)
• Compact WLCSP, 0.4 mm pitch, 48 pin package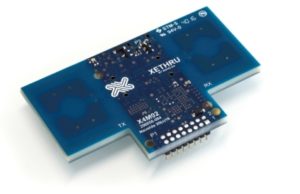 Human presence detection
X4M300
 The sensor detects human presence and any type of movement in a room, as well as measures the distance to the target.
 Sensor output includes movement metrics, object distance as well as baseband data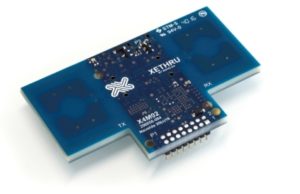 Advanced Respiration and Movement
X4M200
The sensor provides advanced respiration and movement tracking both during the day and throughout the night.
Ideal for sleep analysis when used together with the XeThru Sleep Analysis Library running on a host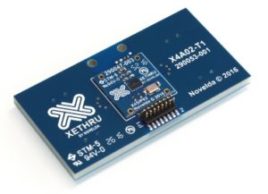 With your choice of microcontroller
X4M05
The X4M05 is a complete radar sub-system containing the X4 UWB Impulse Radar SOC and antenna
SPI Interface to the host.
Ideal for data processing on external MCUs
Contact us >>   XeThru@exceed-tech.com